Peat Ponds
Bird watching at the Peat Ponds offers visitors a chance to view horned grebes, American widgeons, many species of duck, the rare Rusty blackbird, sandhill cranes, trumpeter swans, and a variety of shorebirds, just to name a few.
In 2016, IALT was awarded $10,000 from the Rasmuson Foundation for public use improvements of the Peat Ponds parcel (near the intersection of Goldstream and Murphy Dome Roads). This generous grant made the following possible: design and construction of a trail on the north side of the property; construction of a bird viewing platform, easing the approach from the parking area down to the ponds, installation of benches for visitors; and the design and installation of interpretive signs.
A few highlights:
A multi-season trail established by Jon Underwood of Happy Trails, Inc. The trail is 6-feet wide and extends about 0.5 miles around the northwest section of the property and about 0.7 miles around the northeast.  The south side of the ponds remains a winter-use only trail.
Martha Raynolds and Sam Dashevsky designed plans for a bird-viewing platform that utilizes a natural clearing on the property overlooking the Ponds where bird spotting is highly active.
IALT would like to thank the following volunteers for their help with these improvement projects:  Sam Dashevsky, Martha Raynolds, Owen Averett, Steve Levey, Mac Levey, Pam Seiser, Eleanor Guthrie, Will Port, Rachel LaSota, Lehman Rivard, Jen Schell, Seth Adams, Owen Guthrie, Alex Prichard, Frank Keim, and Christopher Baird.
Property Background:
In 2003, the Interior Alaska Land Trust was approached by Dan Himebauch of Exclusive Landscaping. He owned 25 acres (sub-divided into 5 parcels) at the intersection of Sheep Creek Road and Murphy Dome Road. He had mined peat from the properties, and in negotiations with the Army Corps of Engineers, had agreed on a permit stipulation for the excavation work on the property that stated: "…the parcel will be donated to an appropriate entity for the purpose of wildlife habitat. A deed restriction shall be placed on the parcel stating it shall remain undeveloped…"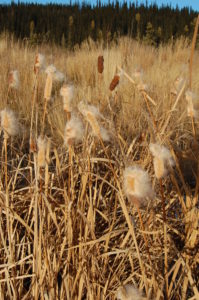 The final reclamation work was done in the spring of 2006, and the property was donated to the Interior Alaska Land Trust subject to the following Deed Restrictions:
The property may not be subdivided or sold.
The property may not be used for commercial purposes.
The property may only be used for conservation purposes.
Since reclamation, the property has become an outstanding birding site, used by both spring and fall migrants and nesting waterfowl in the summer. It includes both a deep-water pond and shallow wetlands. The property is used for recreation year-round, including skating and skiing in the winter, and canoeing, birding and walking in the summer. The reclamation left one driveway and a parking area. The property also provides valuable hydrological functions (water storage and filtration, water table stability for surrounding wetlands and Goldstream Creek), and other landscape functions (Goldstream Road stability, limiting melting and drainage of uphill ice lenses).