Trails Day 2021
Thanks to the volunteers who helped mitigate erosion at the Peat Ponds! We moved our interpretive sign closer to the parking lot and planted willow cuttings along the bank.
March 26, 2021
A major connection has been added to the conservation lands of Goldstream Valley! The 152-acre Schiewer parcel contains sections of Goldstream and O'Conner Creeks and connects the Parrish parcel with State land. It permanently protects trails, including the Goldstream Valley Lions Club footbridge.
April 12, 2020
We are excited to announce the addition of another parcel to the conservation lands of Goldstream Valley! The 5-acre Wold parcel is at the end of Jamie Way and provides habitat for wildlife, and serves as an important buffer between the valley wetlands and surrounding development in the west Goldstream area.
January 2, 2020 Radio Publicity 
Robyne at KUAC did a short radio piece on IALT and our work in the Fairbanks area after attending our annual community meeting last month. We are grateful to have the support we do throughout the community!
2019 Annual Meeting
Tuesday December 3rd at Noel Wien Public Library (6pm-8pm)
We will be holding our annual meeting on Tuesday December 3rd at 6:00 p.m. in the Noel Wien Public Library large conference room (in the first room before entering into the library itself). This event is open to the public! We invite community members to come learn about our current projects, recent easements, land acquisitions, fundraising efforts and more. Bring any questions or concerns you have regarding land conservation. See you there!
Burgers, Brews, and Bogs 2019
IALT Annual Fundraiser at Ivory Jack's – November 2, 2019 @ 5pm (until 8pm)
Join us at Ivory Jack's for burgers, brews, and some Goldstream-themed silent auction items! Your purchases (including special food and drink items!) will support the work we do to conserve lands in the Interior. Come on out, place a bid or two, and eat a burger for your favorite bog!
Volunteer Land Steward Training
June 10th, 2019 @ 1:00 p.m. – Lawlor Hay Fields
Learn about volunteer land stewardship in your community with the Interior Alaska Land Trust and put your love of the great outdoors to work for a great cause. Training will last approximately 2 hours (or less). Come dressed for the weather. Water resistant shoes are recommended. Volunteer Land Stewards are vital to our organization. To learn more, check out our volunteer page under "contact us."
Goldstream Community Meeting & Fundraising Event
March 11th, 2019 @ 12 p.m.  –   Ken Kunkel Community Center
The Interior Alaska Land Trust invites you to the Ken Kunkel for a Goldstream Community Meeting. We want to hear more about what you'd like to see in the Goldstream Valley greenbelt and tell you a bit about our efforts to protect the trails and open space you love. Refreshments will be provided.
After Ken Kunkel, we'll head to the Peat Ponds for a guided tour on *BRAND NEW* winter trails to a new parcel we're working to conserve. Skiing, snowshoeing, and walking are all welcome!
We're currently raising funds to purchase a parcel south of the Peat Ponds that connects two large sections of the Goldstream Greenbelt (see map posted below)!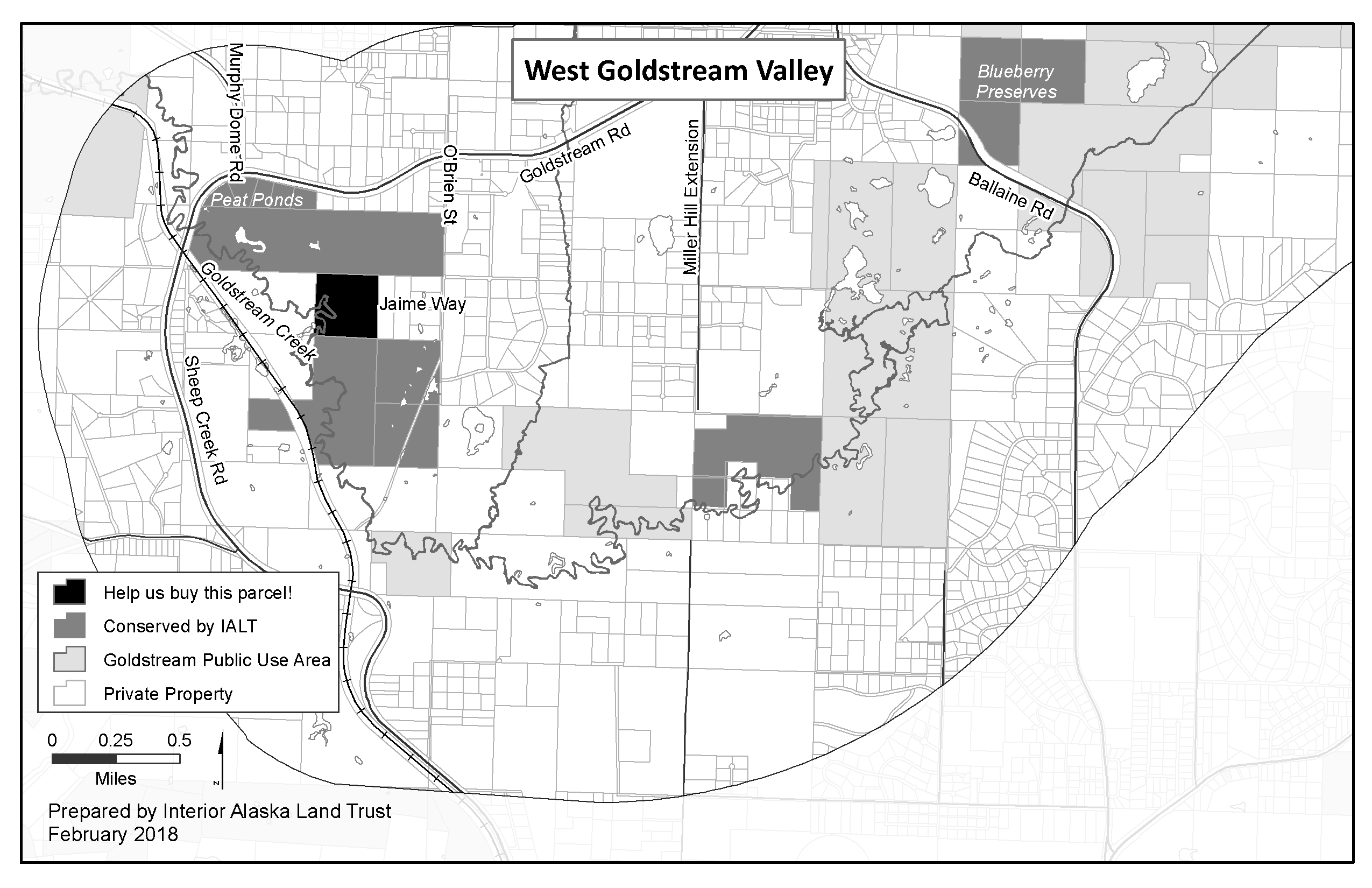 Burgers, Brews, and Bogs 2018
IALT Annual Fundraiser at Ivory Jack's – November 16, 2018 @ 6pm
Join us at Ivory Jack's for burgers, brews, and some Goldstream-themed silent auction items! Your purchases (including special food and drink items!) will support the work we do to conserve lands in the Interior. Come on out, place a bid or two, and eat a burger for your favorite bog!
The Greenbelt Expands
In February 2009, Fountainhead Development Inc., one of the largest real estate development and hospitality companies in Fairbanks, donated 89 acres of land to the Chena Flats Greenbelt Project. The new parcel, which extends for approximately one mile along Chena Pump Road, is a vital acquisition for the Greenbelt Project, whose goal is to establish a multi-purpose corridor along the base of Chena Ridge that provides accessible recreation space, conserves high-quality wetlands, enhances surface- and ground-water quality, and protects a portion of the historic Chena town site. Fountainhead Development owners Tim and Barb Cerny are excited about the land's year-round recreation potential and its value as an access point to the proposed greenbelt. "We hope this land will some day serve as a hub for the recreational corridor," says Mr. Cerny.
Greenbelt Open House
Mike and Kathy Craft hosted a gathering at their home on Pickering Drive on Sunday, December 7, 2008 to support the Greenbelt Project. Neighbors came together to meet each other, to learn more about the Greenbelt, and to brainstorm about continued fundraising and volunteer activities. Many thanks to the Crafts for providing a delicious spread of food and to Bob Henszey for an informational slideshow.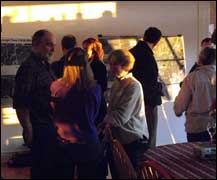 Additional Chena Flats Properties
With the assistance of The Conservation Fund, the Interior Alaska Land Trust recently acquired eight lots (about 20 acres) in the Despain Lane area (off of Chena Pump Road near Faith Baptist Church) for inclusion in the Greenbelt. The lots in this area are about 2.5 acres each, with 20 parcels north of and 10 parcels south of Despain Lane. Many of these parcels have not yet had homes built on them, but are platted with that possibility.The property added to the Greenbelt contains an old slough channel of Cripple Creek, as well as scrub-shrub wetlands. Some residents of Sherwood Forest use this land for winter walks or skiing. We are very pleased to have acquired these parcels, which will make it easier to include a continuous greenbelt through the area.
The CFGP is currently working with other landowners interested in subdividing off the wetland portion of their properties and selling that portion to the Greenbelt. These are very important parcels. The Greenbelt is also interested in working with landowners who would like to retain all of their property, but may be willing to sell some of their development rights to the Greenbelt in a conservation easement. There are federal tax benefits (the value of the easement is considered a donation to a non-profit organization) and, likely, Borough tax benefits to this option (your FNSB property taxes will likely be reduced as a consequence of the easement). Please contact Owen Guthrie at 322-3462 or oguthrie@gmail.com if you would like to learn more about conservation easements.
We have also recently acquired an additional 17.5 acres in the northern section of the proposed greenbelt area with the assistance of The Conservation Fund, and have had offers from other interested landowners. Further local fundraising efforts are underway. We can use your help!
New Development in the Neighborhood
We continue to follow two new area subdivisions that have been in the works for about a year now. One is along Roland Road, and the other is off of Chena Point Avenue.
The Roland Road subdivision was two, 20-acre parcels originally subdivided into 18 lots ranging from 1.84 to 3.08 acres, and was recently approved to be further subdivided into 34 lots about one acre each. These parcels have been previously cleared and are on the edge of the proposed Greenbelt, thus we don't believe they are essential to the Project. We hope to work with the developer to find ways that both the development and the Greenbelt can benefit from each other.
About ten acres on the south side of Chena Point Avenue was recently permitted by the Army Corps of Engineers for six home sites (which is now offered for sale as part of a 20-acre parcel) along with another 20 acres in the original 53-acre parcel. These lands would make a nice addition to the Greenbelt, but will need the financial help of local residents to make this happen.
2008 Auction Results
The Chena Flats Greenbelt Project held their second annual fundraiser auction and brunch on March 30, 2008 at Pikes Waterfront Lodge. Thirty people attended and had fun bidding on some great items donated by thirty-eight individuals and businesses, including: a stay inside Denali National Park at the private cabin of Camp Denali/North Face Lodge; a condo stay in Costa Rica; a bicycle; a Dennis Witmar photograph; a truck load of firewood; pottery; and a variety of delicious home-made desert treats. The nearly $7000 that was raised will be put towards purchasing further properties and land conservation easements within the greenbelt. Thanks to everyone who volunteered, who attended, and who donated. We'd like to thank the following donors for their support:
| | |
| --- | --- |
| Apocalypse Design | Wright Air |
| The Woodway | Hugh Rose |
| Gulliver's Books | Camp Denali |
| Water Wagon | Merritt Helferrich & April Crosby |
| Elaine Mayer | Chena Point Gravel LLC |
| Cache Creek Mercantile | Mike and Kathy Craft |
| Doug Sims | Amy Turner |
| The Blue Loon | Summer Andersen |
| Carol Roblee and Don Lokken | Sourdough Fuel |
| Fairbanks Soil and Water Conservation District | Alaska Environmental Power |
| University of Alaska Press | Coldspot Feeds |
| Raven Cross Country | Carol Reymiller-Gelvin |
| Inua Wool Shoppe | Carolyn Buckingham |
| Gayle Mayo | Well Street Art Gallery |
| Wendy Berg | Thomas Hart |
| Jan Lokken | The Alaska Club |
| Riverboat Discovery | Alaska Coffee Roasting Company |
| Dennis Witmer | Karen Brewster |
| The Artworks | Joann & Bob Henszey |
Chena Flats

Ski

Tour
Held Saturday, March 8, 2008 at 1pm to celebrate the preservation of nearly 200 acres of open space. Nine people spent 1.5 hours getting to know the area and exploring the trails of the Chena Flats Greenbelt Project. It was a beautiful sunny day with unseasonably warm temperatures of close to 40 degrees. Fun was had by all!
Recent Accomplishments
The Chena Flats Greenbelt Project has received a national honor accompanied by a grant from the Kodak American Greenways Awards Program. The $1,500 grant will help preserve open space, wildlife habitat, and recreational opportunities in west Fairbanks (at the base of Chena Ridge).  In addition to receiving the grant award, the Chena Flats Greenbelt Project will be showcased as a national model for its innovative efforts to develop a greenway in Fairbanks.
KUAC Radio Interview
Listen to former project coordinator, Marie Beaver, talk about our citizens' effort to protect greenspace during an interview with KUAC Radio on May 11, 2007.
Fairbanks Nordic Ski Club tour of the Chena Flats
In April, 2007, Dave Lacey of the Nordic Ski Club of Fairbanks led a group of cross-country skiers on a tour of the trails in the Chena Flats area.
2007 Auction Results
The Chena Flats Greenbelt Project held a fundraiser auction and brunch on Sunday, March 4, 2007 at Pike's Waterfront Lodge. On a cold, not-yet-spring day, 45 people turned out to support and learn about the Greenbelt Project and linger by the fire at the Lodge. At the end of the day we had raised over $5000, funds that will be put towards pursuing and purchasing further properties and land conservation easements within the envisioned greenbelt.
Over 57 local businesses and individuals contributed items to the auction. Thank you to the supporters of the Greenbelt Project and to Pike's Waterfront Lodge and Jay Ramras for hosting the event. We would like to thank the following donors and volunteers:
| | | |
| --- | --- | --- |
| Donors |   |   |
| College Town Pizza | Apocalypse Design | Gulliver's Books |
| Water Wagon | Well Street Art Company | Molly Lee, Museum of the North |
| Beaver Sports and Greg Wisenhant | Elaine Mayer | Cache Creek Mercantile |
| Jen Landry | Ridgeview Chiropractic Clinic | Doug Simms |
| Ballroom Dance Club of Fairbanks | Blue Stone Massage | Chena Hot Springs Resort |
| The Blue Loon | Leaf it to Me | Alaska Feed |
| Susan Todd | Carol Roblee and Don Lokken | Polhavn Woodfabrik |
| Ingrid Herreid | Anna Marie Benson | Sandy Zirnheld |
| Jeff Merkel | Judy Regan | A Chimney Sweep |
| Renee Patten | Fairbanks Soil and Water Conservation | Karen Brewster |
| Aldona Jonaitis | University of Alaska Press | Raven Sports |
| Carol Norton | Inua Wool Shoppe | Gayle Mayo |
| Arctic Wild | Michael Wald | Alaska Outdoor Rentals |
| Tom McLean | Calypso Farm and Ecology Center | Wendy Berg |
| Jan Lokken | Frank Keim | Janet Kidd |
| Susan Grace | Howard Feder | Sally Andersen |
| Test the Waters Adventure Sports | Patrick Mechanical | Pike's Waterfront Lodge |
| Jack Schmid | Dennis Witmer | Barbara Travis |
| Artworks | Charles Scott | Joanne Henszey |
| | | |
| --- | --- | --- |
| Volunteers |   |   |
| Bob Henszey | Karla and Larry Bright | Kathy Campbell |
| Kevin Maxwell | Karen Brewster | Elaine Mayer |